At times, isn't it frustrating managing some patients' expectations?
They want to get better, but they aren't willing to do what it takes.
Anything short of you fixing 'em over the phone is just too much to ask.
Well, Chiropractors are no different. Anything more than us wiring money to their account is too much work.
That is why it's so easy to succeed these days. All you have to do is just A LITTLE MORE than what most won't do.
ChiroTrust members who just get out of their own way—who let us do what we do, and who consistently follow a few simple steps and just post/boost one article a day from their own "Online Information Center" that we create and manage for them—see their practices grow.
TODAY, THIS ARTICLE
WILL ATTRACT PATIENTS
FOR CHIROTRUST MEMBERS…
TOMORROW it will be another article.
7 days a week, a new article is marketed across the US and Canada.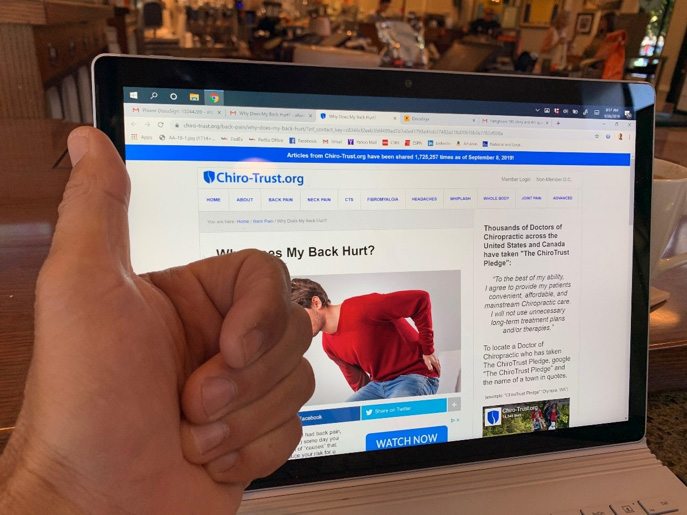 ChiroTrust creates content daily.
Markets content daily.
Attracts patients daily.
It doesn't get any easier than this.
It can't get any easier than this.
Nothing happens without action and momentum.
BOTTOM LINE…
Most consumers aren't willing to be and do what it takes to be healthier…
And Most D.C.s aren't willing to be and do what it takes to have a simple, solid, and successful practice.
Most D.C.s have no clue what they are doing.
They REPEL business with…
Their practice name
Their appearance
The look and vibe of their practice
Their posters
Their business card
Their fees
Their treatment recommendations
What they say
What they don't say
Their marketing
Their attitude
HOW DOES CHIROTRUST CONTINUE TO
DOMINATE CHIROPRACTIC?
AND HOW DO ITS MEMBERS
DOMINATE THEIR MARKET?
BY ACCEPTING CONSUMERS AND CHIROPRACTORS AS THEY ARE….
REQUIRING THEM TO DO AS LITTLE AS POSSIBLE TO GET WHAT THEY WANT.
That is why ChiroTrust doesn't sell shovels.
We do as much shoveling for our members as possible so that you can do the same…
For your patients.